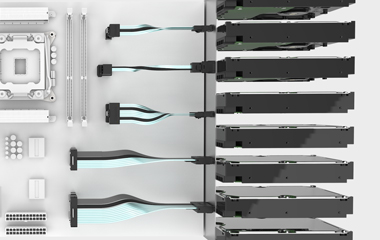 Server is the core of the data center.Server can meet the higher bandwidth and better thermal performance management with Zhaolong solutions.We provide complete product portfolio and system expertise to help customers optimize server configurations. With the elaborate customization era coming for servers, Zhaolong can provide customized solutions to meet the depth customization needs such as general servers, rack-mounted servers and blade servers. In addition, our products can be expanded to meet the requirements of reducing energy consumption, higher density and higher speed in data centers. Meanwhile, it is ensured that the products can pass the most industry standard protocols, with data transmitted quickly, seamlessly and securely.
Excellent R & D Capabilities
Zhaolong R & D team normally use Moldflow aiding product design,and CAE to analyze the stress and find out the stress distribution at various points of mechanical parts then can short the development cycle and also help discovering potential problems of products,thus improving the product quality to achieve the purpose of cost down.

Zhaolong's manufacturing system use fully automatic and semi-automatic equipment for cable assembly, including automatic machine for internal cable assembly, automatic welding, fully automatic laser peeling and robotic arm.Meanwhile, with the support of MES system to ensure the performance and consistency of each cable then can provide reliable quality control for customers.