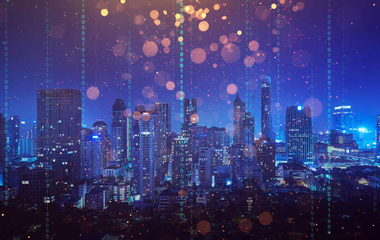 In the future, the smart city we live in will be composed of countless smart buildings. The ubiquitous Internet of Things (IoT) and connection assemblies can connect various smart devices so that we can collect, manage and analyze the data generated by these devices. Generic cabling is an important PHY media for IT infrastructure such as smart factories, office complexes, schools, hospitals, hotels, etc..
CAT6A 10Gbps Copper System
CAT6A copper cables can achieve 10Gpbs data rate to meet the current and future 5 to 10 years of wired access to the major terminal equipment. CAT6A system can support different levels of PoE (power over Ethernet) to meet the data transmission and power supply of most terminal devices in intelligent buildings, which is an optimal cost-effective solution. Under normal circumstances, customers will choose conventional unshielded systems. After technical iteration, Zhaolong has developed the fourth generation of unshielded copper products, which are of high cost performance and good anti-interference ability. In some environments where anti-electromagnetic interference needs to be considered, Zhaolong also provides shielded systems. Zhaolong has developed shielded copper cables of various structures, so that they can be used in different scenarios.
CAT8 25G Copper System
CAT8 copper cables can achieve 25G data rate over 50 to 100 meters (The relevant international standards are being discussed), providing cost-effective wired access solutions for the future indoor Wi-Fi 7. CAT8 can also provide 40Gbps access over 30 meters.
OM4 Multi-mode Optical System
OM4 multi-mode optical cables can provide enough bandwidth, which can be easily applicable to high-rise buildings. Multi-mode optical cable is still a good solution with lower cost.
OS2 Single-mode Optical System
OS2 single-mode optical cables can support a longer distance, which is widely used in the connection between buildings. There is enough capacity on a small number of single-mode optical fibers to meet the requirement for continuous improvement of capacity in the long-term use of intelligent buildings.
Cabinet/Rack/Built-in Cabinet
Different specifications of open racks, closed cabinets, and wall cabinets used in hotels, schools and other small spaces can meet the needs of IT equipment for safe storage.
Zhaolong CAT6A Unshielded Copper Cable (The fourth generation technology)
The creative use of "specialty films" makes the copper cable still have a unshielded structure while maintaining good resistance to electromagnetic interference. The overall cost performance of the products is higher than that of the third generation technology (a process of "non-continuous aluminum foil"), which is cost-saving for customers.