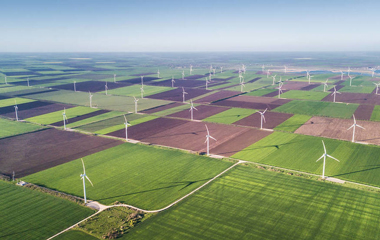 Zhaolong has complete data cables and communication solutions such as CAT3-CAT8, PROFIBUS, etc., with high flame resistance, fire resistance, severe cold resistance (-50°C), torsion resistance and other environmental resistance advantages. According to the different use environment of wind power, we can provide customers with various types of cable solutions.
Perfect Solution
1. PROFIBUS DP/PA: Automation communication system cable with strong anti-interference ability. This cable is suitable for PROFIBUS and FIP fieldbus control in the nacelle of wind turbine generators, and transmits two-way, serial, and fully digital automation control signals. Advanced skin foam skin technology protects internal insulating materials and improves transmission stability.
2. CANBUS: Comprehensive control bus, stable signal transmission performance. This cable is suitable for internal control local area network and field bus control in the nacelle of wind turbine generators, and transmits two-way, serial, and fully digital automation control signals. Our company develops special star quad technology according to its own conditions, which can ensure the stability of signal transmission in a high-speed mobile environment.
3. RS485: Economical bus, suitable for long-distance communication. It is suitable for communication and field bus control from the tower base to the top of the tower. The transmission distance is long, the signal is very stable, and it will not be caused by the increase of distance. The unstable scene of the signal. At the same time, the ultra-high requirements for the attenuation value ensure that the signal is transmitted as long as possible during the transmission process. Mature armoring technology ensures that the cable can still be protected in harsh environments and its service life is increased.
4. Drag chain cables (FD 430, FD 837, etc.): The flexible rotor connecting wire is changed to a cable used for connecting cables between flexible rotors. The use environment needs to be moved frequently, and the cable has higher requirements for flexibility and cold resistance. High demands. The PUR sheath material can be applied to this kind of application in the high-cold field, and has a significant increase in the service life of the cable.
Abundant Products are Applied to All Parts
1. Cables in the engine room: The control cables are basically used in the engine room to connect the cables between the engine and the control cabinet. 2. Tower base line: the tower base part is mainly divided into the wires in the cabinet and the transformer cable, and the flexible cable is basically used as a common control cabinet line. Our common models are H07VV-F, MC 410, etc.3. Cables in the tower: Power cables are mainly used in the tower. For transmission and transmission purposes, the common ones are divided into two parts. 4. Communication bus: PROBUS and other buses used for the digital control system inside the engine room.