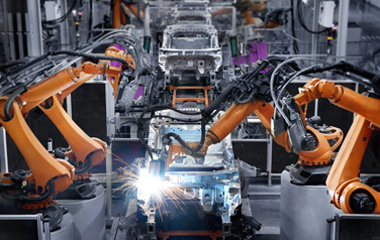 We provide customers with a full range of cable solutions including robot body, arm, pipeline package, visual inspection, floor line and servo motor.According to the requirements of customers, we can provide personalized customized services, through reasonable layout design and cable structure optimization, to achieve the optimal requirements of customer system integration. The products have excellent torsion resistance, wear resistance, bending resistance and drag chain performance.
Robot Body
FD 938 CY series 10 million times drag chain requirements, economical PVC sheathed cable
The cable as the robot body series has a lower sensitivity to the external environment, so we use PVC sheath material with the highest cost performance and TPEE material with high mechanical performance for the insulation, which can not only ensure the electrical performance of the cable, but also meet the requirements of most robot bodies on the market. Flame retardant can meet the requirements of VW-1/FT1, and has excellent anti-electromagnetic interference.
Robot ARM
million times of torsion, bend and twist resistant transition pur sheathed cable.
The robot arm cable adopts the wear-resistant PUR sheath material, which not only has the high flexible chain performance of the body, but also can be applicable to the special environment of bending and torsion. The TPEE insulation with high mechanical performance protects the conductor from external stress.Smaller bending radius can be used in most applications such as handling, welding, gluing, grinding, etc. The cable is halogen-free and meets the flame retardant requirements of FT2. It has very good protection advantages in acid and alkali resistance, spark and splash protection.
Floor Line
730 P, 837 CP, wear resistance, impact resistance performance cable.
Used for connecting the cable between the control cabinet and the robot body, it is often laid on the floor. Although hose protection and other measures can be adopted, there will be frequent stampedes and other situations. Therefore, we recommend the adoption of PUR sheath material, which is wear-resistant, to improve the cable process and make the cable more compact and solid.