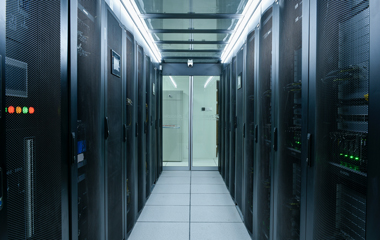 Enterprises often build their own data center to meet rapidly changing business needs. Enterprise data centers need to meet the current and future business development needs of the enterprise. High performance, reliability, and security are key considerations.
CAT6A 10Gbps Copper System
CAT6A 10Gbps copper system provides high-speed wired access to most servers, network equipment and storage equipment in enterprise data centers. In addition to traditional termination technology, pre-connected copper cable technology is also commonly used in the scenarios where a large number of copper connections need to be completed quickly while the performance is guaranteed.
OM4 Multi-mode Optical System
OM4 multi-mode optical system provides high-speed optical fiber access to NAS, SAN, optical fiber directors, blade servers and other equipment in enterprise data centers. In addition to the traditional welding technology, MPO (Plug and Play, multi-core optical fiber interface) pre-connected optical cable technology is also commonly used in enterprise data centers, especially in core areas with large amounts of fiber access. In the early years, 12-core MPO systems were the mainstream. With the changing of network architecture, different specifications such as 8-core MPO, 16-core MPO and 24-core MPO have appeared in recent years according to different application scenarios. Furthermore, the emergence of OM5 will once again increase the bandwidth of optical fibers. Combined with the WDM (wavelength division multiplexing) technology, it can provide backbone fiber connection bandwidth with larger network convergence layer and core layer.
Intelligent Cabling Solutions
The intelligent cabling system uses database technology to digitize the PHY cabling information to better provide real-time and navigational services for IT maintenance personnel in enterprises. Various functions such as electronic work orders, circuit tracking, jumper changes, etc., make it easier for users to deal with the troubleshooting of PHYs.